Gentlemen's Pernicious Entertainment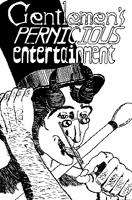 Welcome! You've found it! Here at long last is where you can actually purchase Gentlemen's Pernicious Entertainment, written by
This comic is currently available on:
Paper - twenty-four pages of high quality paper, lovingly photocopied in black and white.
Digital Download - now available on its own page at Comixology! Link here!
http://cmxl.gy/1wk6BHi
Hey! Bought this comic? Read this comic?
What's it about? it's about a man who marries a woman and he's found out she's cheated on him. Cheated on him multiple times, in fact, as the following panel illustrates:
Check out that detail! There's plenty more where that came from, sailor! We'd show you a little bit more of that left panel but it's so, so dirty! Now, you might think this is a netorare, but you'd be wrong! Read on to discover the horror of a marriage in turmoil!

Wanna Buy this Comic?
So how about it? Are you "sold"? Well if you want the paper version, it's only gonna be five American dollars to get your hands on this great comic that you and your descendants are sure to treasure for many years to come. We're working on setting up a paypal account, but until then, use the form below to disgorge an email for details on where to send your money!
If you just can't wait for the mail, then the digital version of this comic will only cost you 99 cents and it's available now at Comixology! Go here:http://cmxl.gy/1wk6BHi
THANKS FOR CHOOSING COMICS!