Lax Sex Scandal Issue #4
Back to Lacrosse Sex Scandal Main Page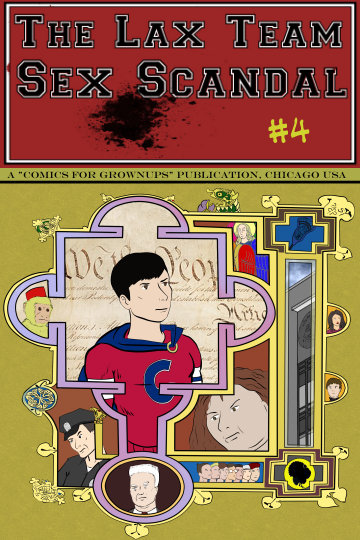 Welcome! This page tells you where to buy The Lax Team Sex Scandal #4, written by
!
This comic is currently available on:
Paper - This is a full size, 10 inch by 6.75 inch paper comic with twenty-three pages of high quality color!
Buy it Now!
Issue #4 by itself is $10 plus $2.00 shipping and handling.
If you would like issues #1, #2, #3, and #4 for only $25 plus shipping and handling,
click here for a great deal
!
What's it about?
This is the fairest fourth issue of about ten or so issues to come. Continuing the story of chapter one, "The Maddened Mob", we get to see
Crimebuster
face and debate one of the University teachers who signed the attack advertisement of Professor Wahneema Wahneema and joined the "Gang of 88"! It's a no holds barred, biting and gouging allowed type of debate, and only one side can win:
the truth
!
We also get to see a group of men threaten the lacrosse players! The New Black Turkey party demands that they be allowed to march on campus and individually interrogate each of the players on the Baron Lacrosse team. Can you believe it? I sure couldn't. I mean, wow, you know?


Lastly, Al Sharpton shows up to run his big mouth. That's right, Al Sharpton is the butt of a satiric comic! One thing we know about butts and satiric comics, when these two things get put together, there's totally gonna be some butthurt happening! For Sure!


Here's a sample page from issue #4!


Wanna Buy this Comic?
So how about it? Are you "sold"?
You can buy this professionally-printed paper comic for only $10 plus shipping and handling. Click below to order issue #4 by itself.
THANKS FOR CHOOSING COMICS!
Next: Check out Issue 1 of the Lax Team Sex Scandal, or see other comics for sale!