Lax Team Sex Scandal Issue #3
Back to Lax Team Sex Scandal Main Page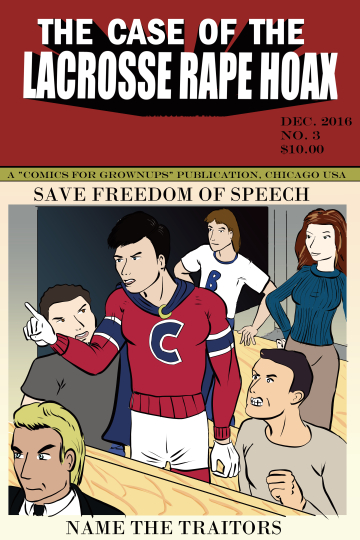 Welcome! This page tells you all about The Lax Team Sex Scandal #3, written by
!
This comic is currently available on:
Paper - This is a full size, 10 inch by 6.75 inch paper comic with twenty-three pages of high quality color!
Buy it Now!
Issue #3 by itself is $10 plus $2.00 shipping and handling.
If you would like issues #1, #2, and #3 for only $24 plus shipping and handling,
click here for a great deal
!
What's it about?
This is the trembling third issue of about ten or fifteen more issues to come. Continuing the story of chapter one, "The Maddened Mob", we get to see
Crimebuster
face an all-out attack from Baron University students, as they raise the stakes and start doxing individual players!
The story of the private email continues, with a new twist! The cops get a hold of it, but there's another email that threatens someone else with rape, too! Who sent it? Who received it? Who was the target of this awful threat? You won't believe the answers to any of these questions at first, but then you might get angry.


Lastly, we get to meet a new sinister character who's out to poison the reputations of the young college lacrosse players! When our enemies abandon honor and fair play, there's no telling what will happen!


Here's a sample page from issue #3!


Wanna Buy this Comic?
So how about it? Are you "sold"?
You can buy this professionally-printed paper comic for only $10 plus shipping and handling. Click below to order issue #3 by itself.
THANKS FOR CHOOSING COMICS!
Next: Check out Issue 1 of the Lax Team Sex Scandal, or see other comics for sale!