HOW TO MAKE A COMIC BOOK PAGE, PART 6!
Comic Book Practice, Part One

No Regrets
Comic Book Practice, Part Two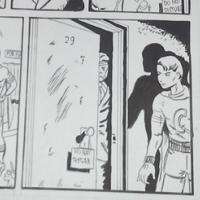 Becoming
Comic Book Practice, Part Three

The Flames
Comic Book Practice, Part Four

Arising
Comic Book Practice, Part Five

Absorbing
Comic Book Practice, Part Six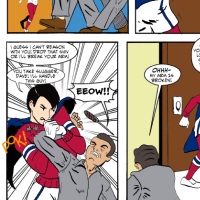 Inspiring

Sam Battin here. I'm trying to learn more about comics by copying pages I think are good. This is the sixth time I've tried this.
Step One: Getting Started
This is number six in a series. For this time around, I had to get back to the daily grind after last time, and so I decided to complete one page in one week. I did it, which I'm glad of. If I keep doing one page a week, then maybe later I'll develop the skill and speed to do two pages a week.


In a teeny tiny little old nutshell, here are the major steps involved how to make a comic, step by step:

Draw small-size thumbnail images for your page.
Pencil all the panels of your page at actual size.
Apply black ink to your comic page.
Erase the pencil marks that the ink doesn't cover.
Add word balloons, dialog, and sound effects.
Add color.
In this week's version, I did a page from Boy Illustories #45, page 45. This comic is in the public domain and can be seen under Lev Gleason Comics / Comics House Publications at the Digital Comic Museum. I am so glad of this resource.


It was written by Chuck Biro and illustrated by some guy whose signature I couldn't read. It looks like "Al Borth" maybe?


Step Two: Doing the Pencils
Al Borth is pretty good; his style is mannered in comparison to Norman Maurer. As you can see in the original page, he likes drawing people really really tiny in the corners of the page. It's a living, right? Yeah, get that page of comics done, damn you!


YEAH! BREAKING A GUY'S ARM IS AWESOME! I really liked this page, as it was representative of how awesome comics are. Not too much troubles with the pencils. I decided that instead of trying to draw tiny, I would do the tiny figures in post production as regular size and then shrink them down.


Step Three: How do you do the inks?
I made that page from shinku entirely digitally. This page I did in the real world, but I'm liking the choices and possibilities that computer production can provide. Here's a photo of the inks:


Step Four: Post-Production
Things went great during post-production. Until the Manga Studio crashed. That sucked. I think it was three hours of work that was lost. No clue what caused it; I managed to re-create the crash by clicking on a particular part of the image, which doesn't tell me a lot. I guess when you use Manga Studio, there's always one particular part of the image which, when you click on it, is like kicking Manga Studio in the nuts. It will keel over and groan and refuse to do anything else.


So I ended up doing post-production on this page twice. There were two sets of tiny people at the bottom left of two panels. I drew these regular size in Manga Studio and then shrunk them down. I saved the first version, here it is:
Working on the comic page the first time, I drew another group of small people, regular sized, and they were meant to appear in the lower-left panel. Once I'd finished the drawing, I thought about saving this picture, too, but I figured, aah, why bother?


And then I kicked Manga Studio in the nuts and lost three hours worth of work, including the picture. There's a lesson for you; Manga Studio fucking crashes when you kick it in the nuts, and its nuts are invisible and on a random part of the program. So, rather than spend more time re-drawing the small figures in addition to re-doing the three hours of work I lost, I just copied the small figures from the original version and stuck them in my version. Fuck it. I didn't feel like doing that for another half hour.


Here is the full-size version:
Step Five: Recriminations
I liked being able to do comics in color. It's really awesome when you think about it, how you can add color to comics and it's really easy to do. Color can add a lot; also bright colors attract attention, which is what can make comics connect.


On the other hand, I need to find out if Manga Studio has an auto-save feature. Fucking cock of a program. Balls were bit. Not the first time this has happened, either. I was able to do all that work again after the crash slightly faster because I remembered what I needed to do, but ... All right I'll let it go.


Otherwise, I now want to start doing the Great American Comic. I feel like I've practiced enough. Well, I mean, I've learned a lot from doing these copies, but now it's time to start learning by making comics on my own. I hope these have been helpful, or inspirational. I love comics.


Thanks for reading! See you next time!
NEXT: Go back and read Comic Book practice Part 5 or Learn how to make comic books!
---